Vacation Bible School: Adventure Island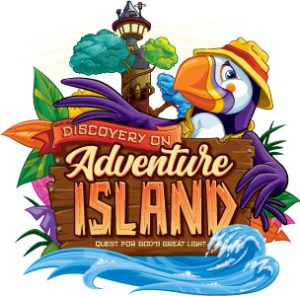 Summer is the best part of the year! This summer kids will sail away to Discovery Island to learn how to explore God's wild Earth. They will discover the truths found only in their guide, the Bible. Every night a new lantern will illuminate the path, so kids discover the TRUE LIGHT of the world — Jesus!
VBS is open nightly for kids ages 4-years-old to 5th grade. Each night will be action-packed with activities, music, games, crafts, snacks, and surprises. Registration & attendance is FREE, donations accepted.
Dinner is served nightly at 5 p.m. – 6:00 p.m. to kids. Dinner is FREE. VBS begins nightly at 6:30 p.m.
When: July 26 – July 30
6:30 p.m. – 8:30 p.m. (doors open 6:00 p.m.)
Open to kids 4-years-old – 5th grade
Cost per week: FREE, donations accepted